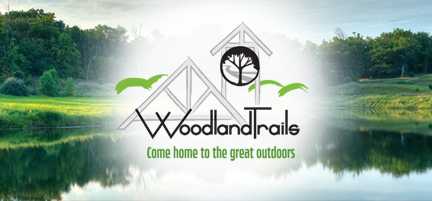 NEW CONSTRUCTION HOME FLOOR PLANS & CUSTOM LUXURY HOME DESIGNS IN GREENWOOD, MO
Woodland Trails is an outdoor lifestyle community with several stunning and liveable new construction home floor plans available. We have a wide variety of available floor plans from one of our local, independent, custom home builders, or you can partner with them to design your own affordable house plans to build.
Our goal is to build homes that are not only beautiful but liveable and functional for each owner's particular needs. We also strive to make your search for the perfect home as easy as possible. With this, we give you the option to select new build floor plans with features that are important to your unique lifestyle.
New Build Floor Plans Customized to Your Needs
A home at Woodland Trails is built for the way you want to live. Spacious floor plans make these custom homes the ideal haven for families seeking a touch of luxury in their daily lives. With an array of beautifully designed new build floor plans, you and your family can enjoy Woodland Trails' park-like environment in the Greenwood area. Located within minutes of Kansas City and within the acclaimed Lee's Summit school district, embrace the lifestyle you've always dreamed about for your family. Discover what possibilities await you with our library of new construction home floor plans:
WHY CHOOSE ONE OF OUR LUXURY NEW BUILD FLOOR PLANS?
There are a variety of benefits to living in stunning Woodland Trails. One of the main benefits is access to the modern house plans designed by our trusted and thoughtful professional architects and homebuilders. Our designs include:
Efficient Use of Space
In today's world, with its increasingly heightened focus on efficiency and functionality, it is no surprise that modern house plans are becoming more and more efficient. Utilizing the natural space to maximum benefit, home builders today plan new builds with the goal of maximizing airflow and minimizing transitional spaces. This ensures that each house design uses available space intelligently and efficiently – giving owners all the benefits of modernity without taking up unnecessary amounts of space. Such efficiency also means lower energy costs in the long run. In short, our modern house plans are designed to maximize efficiency in every sense of the word.
Natural Light
Natural light is essential to our new floor plans. The sunlight that enters through windows and skylights helps to keep your home warm throughout the day, reducing the need for multiple lights and the extra energy they use. Natural light will accentuate different colors in walls, floors, and furniture that only truly shine in direct sunlight. Additionally, natural light is known to bring therapeutic benefits; studies have found exposure to natural light can help with fatigue, contribute to regulating sleep cycles, and even improve moods or elevate energy levels.
Intentional Design & Architecture
Woodland Trails houses have been carefully designed with the homeowner in mind. Our homes feature a combination of angled and flat lines, as well as subtle yet timeless architectural touches, to give a modernistic look and feel. Every aspect of the design has been thoughtfully considered from structural soundness to aesthetics, making sure that each home provides both practicality and beauty.
Exceptional Floor Plan Design from Exceptional Builders
Each of our three, four, and five-bedroom home floor plans are designed with livability, quality, and energy efficiency in mind. Home designs are reviewed by one of the county's top architects to ensure that each home adds value to the community, so you know your new home will be a haven for family members and guests alike, with plenty of space and privacy. Our mission in designing our custom, new construction home floor plans is to create a new kind of community with an emphasis on family and active outdoor lifestyles. Purchasing a home in Woodland Trails comes with a lot of luxurious amenities for a surprisingly affordable investment.
We are proud to feature the work of some of the best custom home builders in the area, including Bryant Ratcliff Building Company, Higdon Construction, JFE Construction, LG Homes, Spellerberg Custom Homes, Stewart Builders, and Walker Custom Homes. We work with these trusted companies because we know they share our commitment to the highest quality floor plan design and construction for all of our homes.
NEW CONSTRUCTION HOME FLOOR PLANS: BOTH TIMELESS AND TRENDY
A new home in Woodland Trails offers much more than simply four walls and a roof. With great trends, from cozy fireplaces to contemporary bars, your home can now be as unique as you want it to be. Take advantage of the options that allow for customizing your dream home with options such as walk-in pantries, main-floor master bedrooms, huge kitchen islands with seating, mudrooms, and first-floor offices.
Whether you are looking for an elegant cottage or a functional family room, there is something for everyone at Woodland Trails. Experience all these different features and find a house floor plan that works best for you and your family's individual needs.
Come See Our Floor Plans Today
Our affordable new build house plans are designed with both beauty and function in mind. The best way to experience the luxury and quality, however, is to come to see for yourself. We can't wait to show you what we have to offer. Come by today and take a look! We're certain you'll love the ability to craft your own vision into the custom home of your dreams today.
Furnished models open Wednesday through Friday from 1 to 5 pm; Saturday through Sunday from 12 to 5 pm. You can also call (816) 875-6410 for more information about our custom home floor plans.