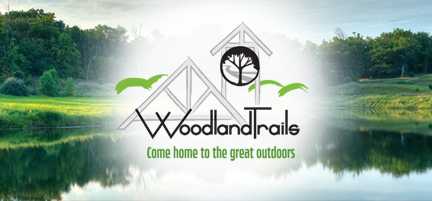 Property for Sale at Woodland Trails Subdivision in Greenwood
Located just south of Lee's Summit in the beautiful community of Greenwood, Missouri, Woodland Trails is a spacious neighborhood inspired by the natural beauty that surrounds it. If you want the best of both worlds in your single-family home neighborhood—close to all the action of the city but far enough away to experience the wonders of nature—then call Woodland Trails to learn more about our beautiful vacant lots for sale.
Imagine your dream home. What comes to mind when you think about your forever house? If you want to be able to tailor your dream home to your exact specifications, consider buying one of the available lots for sale in Woodland Trails. Our subdivision lots for sale range in a variety of price points for individuals and families to purchase and build their dream homes in the suburbs of Kansas City, MO. Woodland Trails is perfect for any homeowner wanting to balance the convenience of city living with the idyllic calm of a suburban neighborhood. Settle down to raise your family or enjoy your retirement in our scenic yet active neighborhood. Woodland Trails can help you choose from our available subdivision lots for sale to find just the right site for your future home.
View Our Current Subdivision Lots for Sale
Call Woodland Trails today to get more information about new property for sale, including available lots, pricing, and acreage. The rare opportunity to purchase a lot and build your dream home is within your reach. The process begins when you pick up the phone to learn more about what Woodland Trails has to offer you and your family. People spend years dreaming about the perfect American neighborhood where safety, nature, convenience, and architecture come together. You don't have to keep dreaming—living in a beautiful neighborhood in the Kansas City, MO area is a dream that can quickly come true for you.
What Sets Our Subdivision Apart
With ample room between homes, Woodland Trails is landscaped with miles of paved walking trails, water features, grass meadows, twisted oaks, and native elms. Designed in harmony with the natural environment, our community also features state-of-the-art amenities, including a large pool with a waterslide, hot tub, and playground. Not to mention, students living in our subdivision attend the award-winning LSR7 school district. Our community is also just across the street from the James A. Reed Memorial Wildlife Area, an expansive woodland and wetland area known for its fishing, hiking trails, and picnic spots.
Every homeowner is eager to know what will set their new neighborhood apart. When you explore Woodland Trails, experience the calm beauty of living in a natural wonderland environment, but with the modern conveniences homeowners love. The wildlife park next door means you and your loved ones can enjoy the great outdoors throughout the year. The chance to live in one of the most unique and beautiful single-family home neighborhoods does not come around often. Ask us about our subdivision lots for sale before they're all snapped up by other buyers.
Benefits of Purchasing a Lot and Building a Home
Many people think that going through the process of buying a property lot and building a home is more trouble than it's worth. They may think it's easier to buy a home in an established neighborhood, but there are many benefits to building your own home. Some of the benefits include:
You get to pick out a lot that suits your specific needs, rather than settling for a one-size-fits-all lot size and shape.
You can truly customize a luxury home specifically for your family, which can make the home work perfectly for you. You can choose which direction your home faces, where it's placed on your property, what square footage it will have, and so much more.
Living in a brand new home is an experience like no other. You won't have to deal with the problems that often come with older homes. For instance, you won't have to deal with the inconvenience of a home that is constantly needing repairs.
Being a part of the design process means you will get to choose the fixtures and designs that suit your style. You get to choose the countertops, floor plan, finishes, built-ins, and other aspects of your home that make it uniquely yours.
Choose a Floor Plan for Your New Home
The luxury floor plans by Woodland Trails are intentionally designed to be both beautiful and functional, offering features such as abundant natural lighting, large walk-in pantries, first-floor master bedrooms, in-home offices, and more. View a selection of our floor plans here on our website, or call today to discuss your options!
There is no question that the private subdivision of Woodland Trails is a unique neighborhood that celebrates the peace and beauty of the natural world while also providing homeowners with the luxuries they are looking for in modern times. It is possible to have both by purchasing a new property for sale from Woodland Homes and building a home that is just minutes away from historic Lee's Summit and beautiful Kansas City, MO.
Can New Construction Be Charming?
Is it possible for you to buy a new property for sale and build your dream house while maintaining the air of charm that comes with an older home? Well, behind all those charms are drafty windows and rotting beams, homes that have seen more wear and tear and require a staggering amount of care. The charm comes from features that old homes were built with, and there's no rule that says that you can't build a house with all of those features after purchasing a property for sale in Woodland Trails.
Homes built in times gone by had unique features, like window seats, built-in bookshelves, crown molding, and grand foyers. The timelessness of these features is only heightened by Woodland Trails–the neighborhood features a collection of family properties and lots for sale, and you get to add in all the special features you want. If you want the charm of an older home, you can have it—simply design the charm into your new home. You get all the benefits of an old home—the special features—with none of the drawbacks.
In other metropolitan areas, it's easy to feel cut off from the culture and convenience of the city. You may feel like you have to choose between your comfortable home and what's happening downtown. Property sales in Woodland Trails don't make you choose. Our neighborhood is close enough to Lee's Summit, MO that it's easy to run to town for errands or a date night, and Kansas City, MO isn't much further away! Grab a new property for sale in Woodland Trails before you miss your chance. Just give us a call to take a look at the available lot options.