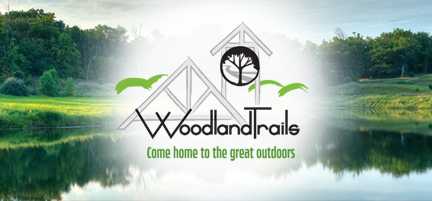 Woodland Trails' Guide to Relocating to Kansas City
If you're thinking about moving to Kansas City, we're here to support you every step of the way at Woodland Trails. We understand relocation can be a challenging experience, and our expert team is dedicated to making it as seamless and stress-free as possible for you. Whether you're a young family searching for the perfect community or a professional looking for new career opportunities, we're here to provide you with the guidance you need.
We're deeply committed to showing our clients all the wonderful advantages of calling Kansas City home. This city has a warm and welcoming atmosphere, a thriving job market, and a diverse range of neighborhoods that cater to all tastes and preferences. We're eager to help you explore all that Kansas City has to offer and guide you toward making the right decision for your next chapter.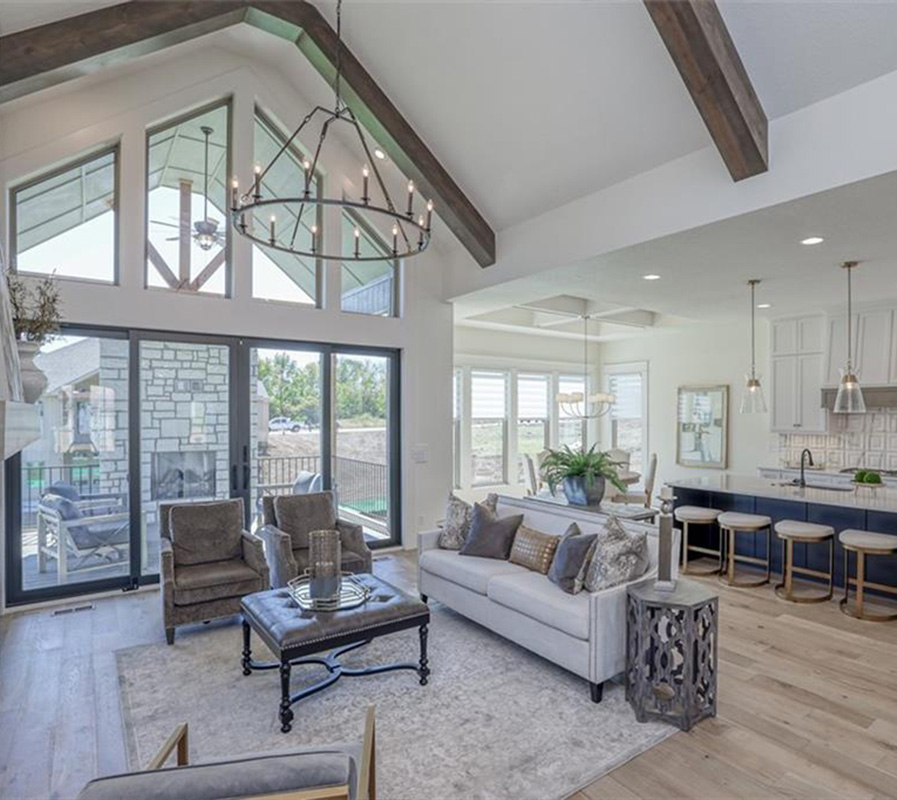 About Kansas City
Kansas City, Missouri's largest city, boasts breathtaking attractions and an exhilarating lifestyle that never fails to enchant both visitors and residents alike. Celebrating its unique local culture, which artfully blends art, music, and cuisine, this vivacious city takes pride in its warm and welcoming community. Whether you're seeking an ideal travel destination or a perfect place to call home, Kansas City's rich cultural heritage and warm hospitality make it worth considering.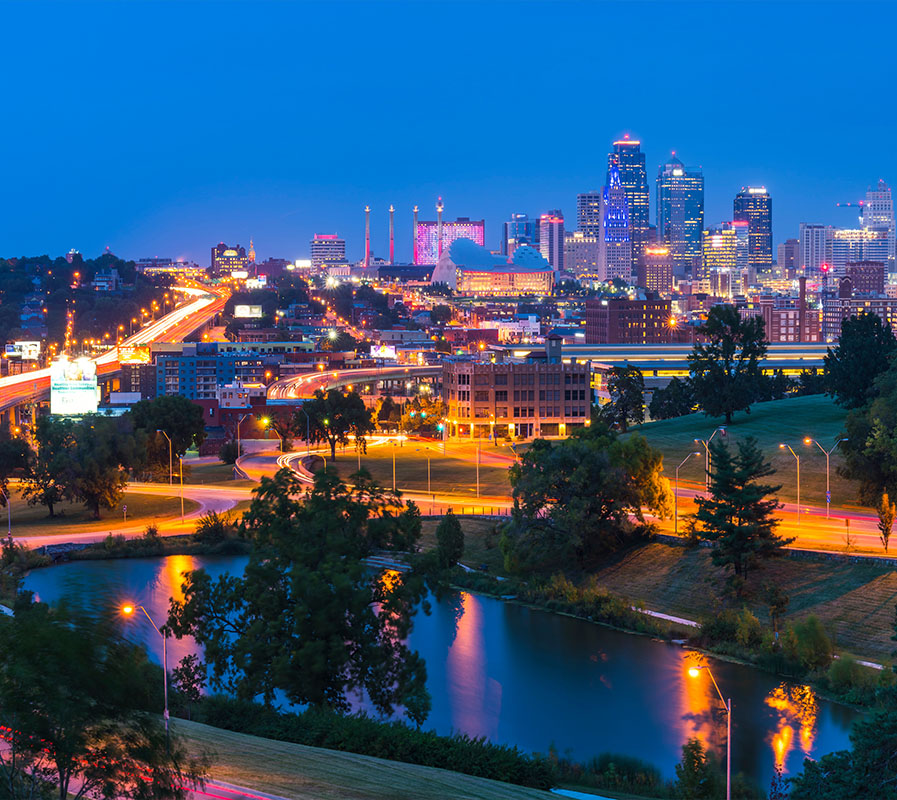 Kansas City's Cultural Attractions
Kansas City has a lot to offer visitors, with several museums worth a visit, including the National World War I Museum and the Nelson-Atkins Museum of Art. These institutions provide an excellent opportunity to explore the city's rich cultural history.
Moreover, Kansas City has a lively jazz and blues scene, with numerous jazz clubs scattered throughout the city. For jazz enthusiasts, the American Jazz Museum, located in the historic 18th and Vine district, is an absolute must-visit. The museum features exhibits on jazz legends such as Charlie Parker, Duke Ellington, Louis Armstrong, and Ella Fitzgerald, among others.
A Large City With A Small Town Feel
Kansas City, with its towering skyline and picturesque riverfront location, offers a unique blend of metropolitan vibe and small-town charm. Whether you're exploring local markets or relishing succulent barbecue, there's something for everyone in this vibrant city worth exploring.
The history of Kansas City can be traced back to its early days as a trading post on the Missouri River, which later became a hub for railroad transportation. Today, with a population of over 500,000, the city showcases a diverse culture that beautifully blends customs and traditions from around the world.
Why Are So Many People Moving to Kansas City?
Kansas City has a diverse job market with opportunities in key industries such as healthcare, education, and manufacturing, but what sets Kansas City apart from other similar cities is its affordability. The cost of living in the city is significantly lower than the national average, making it an ideal place for those looking to make the most of their hard-earned money. In addition, the housing costs are reasonable, providing residents with plenty of options to either rent or buy a home.
While the city is affordable, it doesn't lack cultural offerings. The city boasts a lively arts and music scene, with numerous events and festivals happening year-round. It also has a strong sports culture, especially for baseball and football. In fact, fans of the Kansas City Chiefs hold the world record for the loudest stadium.
Kansas City is a stunning place to live, boasting a large number of fountains second only to Rome, Italy. Additionally, it is situated near the picturesque Ozark mountains. Kansas City is an excellent choice for those seeking job opportunities, affordability, and entertainment, all in one place. It offers a great quality of life and is worth considering as a place to live and work.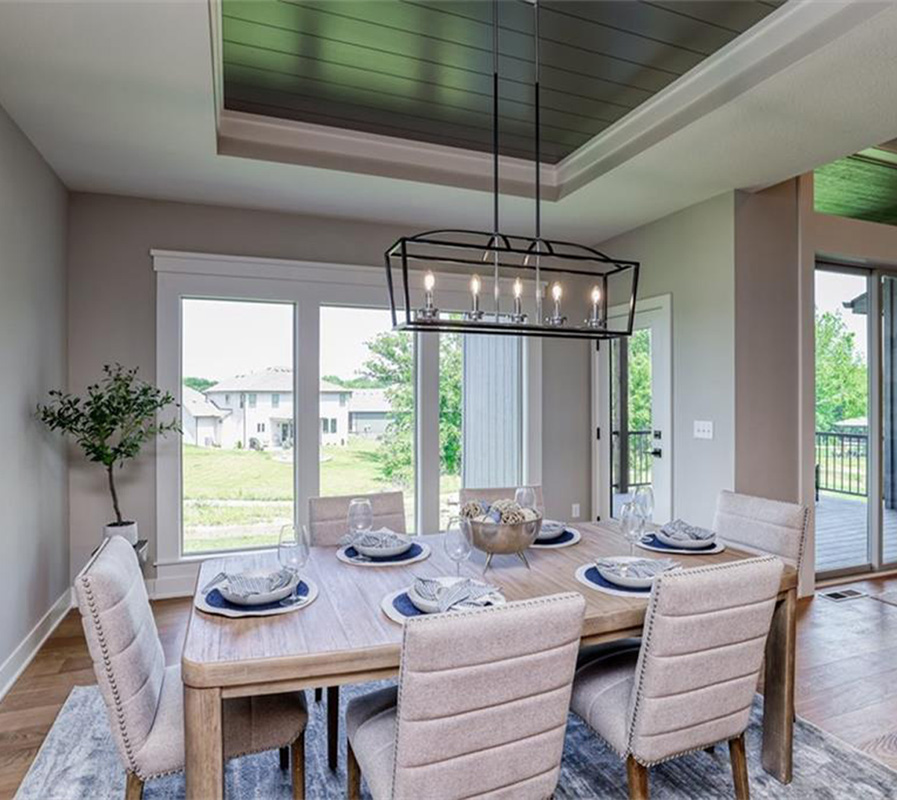 A Guide to Kansas City's Neighborhoods
Kansas City is home to a variety of neighborhoods, each with its unique charm and personality.
Downtown
Downtown Kansas City is a lively area with a rich culture, history, and entertainment worth exploring. This bustling hub offers world-class shopping and dining, as well as a variety of music and theater venues that cater to diverse tastes.
Whether you prefer classical music or modern pop, downtown Kansas City has something for everyone. The Kauffman Center for the Performing Arts and the Midland Theater are well-known venues that regularly host concerts and shows featuring renowned musicians and performers. If you're looking for a more intimate setting, many local lounges provide a cozy environment with live music every night.
The downtown area of Kansas City is home to several theaters that showcase a range of productions, from Broadway hits to experimental plays. The Kansas City Repertory Theatre and the Folly Theatre are among the many venues worth checking out if you're a theater buff.
Downtown Kansas City is an eclectic and exciting neighborhood with plenty to see and do. Whether you're visiting for the first time or you're a regular, this vibrant area never fails to impress.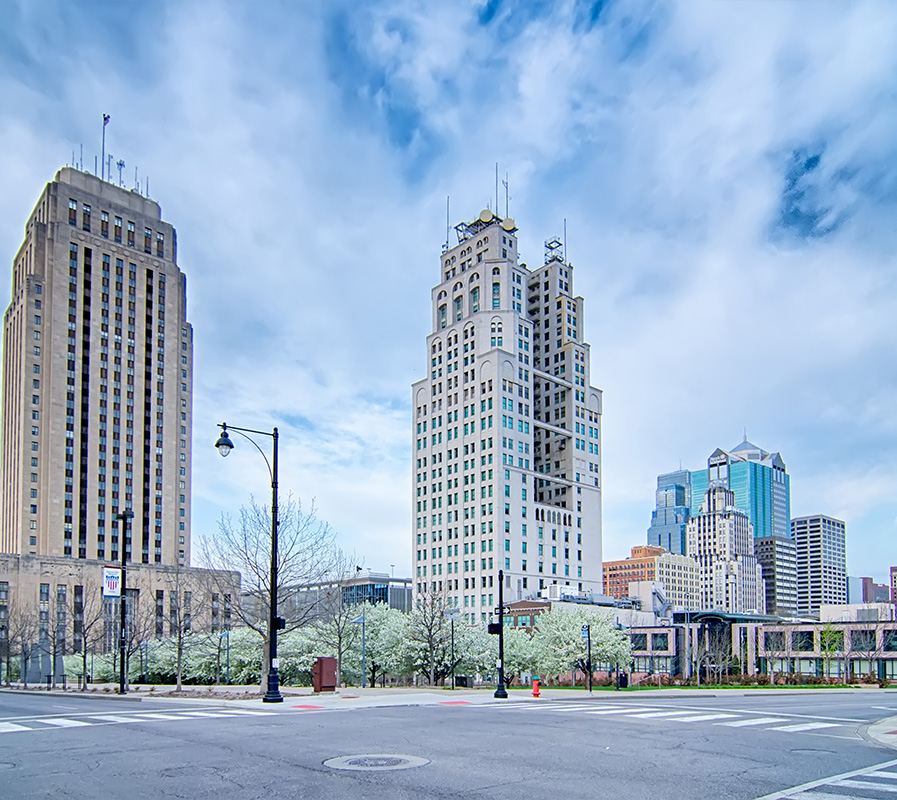 The River Market
As you walk through the River Market in Kansas City, you'll immediately feel the energy of the bustling farmer's market. The air is filled with the scents of fresh produce and gourmet foods, while the sounds of vendors blend together in a symphony of commerce.
However, the River Market isn't just a place to shop for locally sourced treasures – it's also a place steeped in history. Dating back to the mid-1800s, the area was once a hub of commerce for steamboat traffic on the Missouri River. Today, whether you're there to appreciate the area's storied past or to shop at the farmers market, the River Market is a must-visit destination for any Kansas City resident.
The Crossroads Arts District
The Crossroads Arts District, situated in the heart of Kansas City, is a lively neighborhood that attracts both tourists and locals. The eclectic and creative vibe of the district is sustained by numerous art galleries and studios.
As you stroll through the streets, the aroma of delicious food from local restaurants and the sound of live performances will warm your senses. Additionally, make sure to visit one of the many breweries and distilleries to sample the best craft beers and spirits that the city has to offer. The Crossroads Arts District is an essential Kansas City neighborhood with abundant activities and sights worth exploring.
The Country Club Plaza
The Country Club Plaza is an opulent shopping center that exudes a regal aura. Inspired by European architecture, its design takes visitors on a journey through different eras and places, where they can delight in magnificent fountains, mosaics, and stunning structures at every corner.
Apart from shopping, The Plaza also offers visitors free access to the nearby Nelson Atkins Museum of Art and Kemper Museum of Contemporary Art, where they can immerse themselves in art and culture. The neighborhood boasts a vibrant, collegiate atmosphere, with the University of Missouri Kansas City and the Kansas City Art Institute situated nearby.
Whether you are seeking retail therapy or a chance to explore Kansas City's rich artistic heritage, The Country Club Plaza is worth a visit.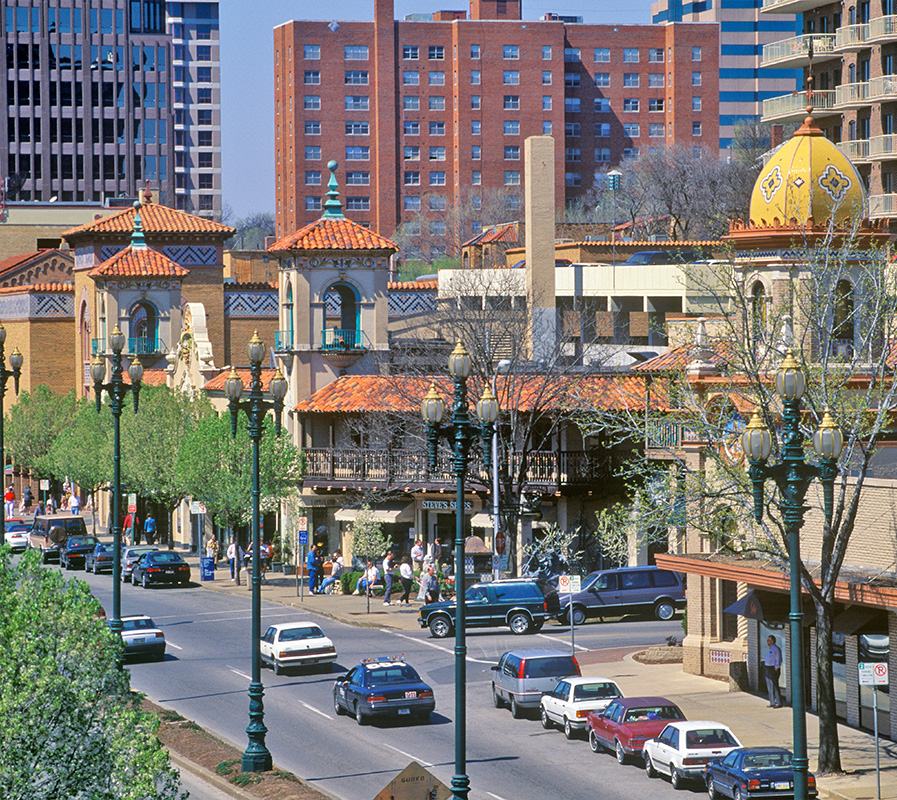 Brookside
Brookside is a charming and tranquil neighborhood located south of The Plaza. Walking on its tree-lined streets, one can feel a warm sense of community coming from its locally-owned shops and restaurants. The area offers several excellent parks and access to the Trolley Trail, which is popular among locals for biking and walking.
For families, this neighborhood is a haven with a local toy store, ice cream shops, and events tailored for all ages. Brookside is the ideal place to create long-lasting memories.
Waldo
Waldo is a charming neighborhood that radiates warm and welcoming vibes, making you feel right at home. With an abundance of character, it represents an excellent example of a closely-knit community. The friendly locals and some of Kansas City's most delectable food make this part of town worth visiting.
When it comes to dining in Kansas City, locals know that the best places to go are the beloved local restaurants and bars. With an array of fantastic food and drink options, it's no surprise that this neighborhood has become a must-visit area of Kansas City.
Johnson County
Johnson County, Kansas, is a pleasant suburban location that offers modern amenities and natural beauty, making it an ideal destination for visitors and residents alike. The area features vast green spaces, including local parks and gardens, perfect for outdoor enthusiasts. For those who love to shop and dine, downtown Overland Park offers an eclectic mix of shops and restaurants that cater to every taste and budget. One of the most popular attractions is the Overland Park farmers' market, which showcases a variety of fresh, locally grown produce and artisanal foods.
Families with young children will love the Deanna Rose Children's Farmstead, a delightful, family-friendly destination that allows visitors to pet and feed barnyard animals, explore gardens, and learn about sustainable farming practices. Overall, Johnson County is an exceptional location that offers something for everyone.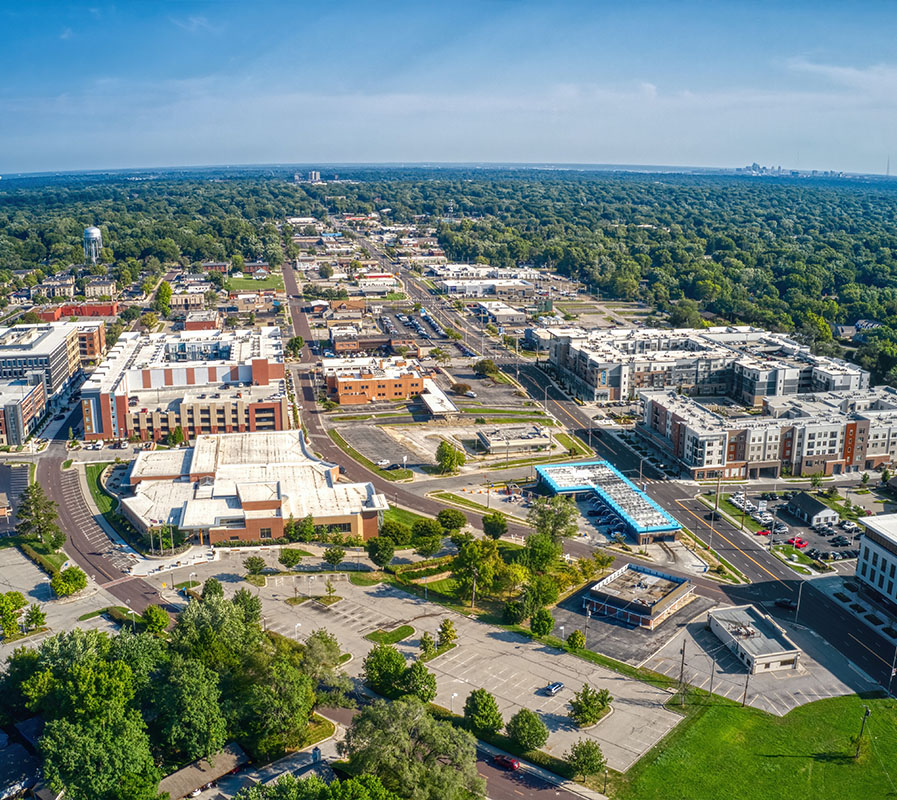 Lee's Summit
Lee's Summit is an attractive city located to the southeast of Kansas City. It offers a peaceful lifestyle with a warm community and a small-town feel, without sacrificing the amenities of urban life. Despite being located outside of Kansas City, residents can still enjoy the tranquility of their own city.
The warm and welcoming atmosphere of the town only adds to its appeal, making it a popular destination for those who want to escape the hustle and bustle of the big city without being too far away from it all.
Woodland Trails
Woodland Trails is a charming neighborhood nestled among acres of forest and scenic trails. It offers a peaceful and close-knit community with a perfect balance of natural beauty and modern convenience. The neighborhood has luxurious homes that cater to different needs and styles, ensuring that every resident finds their perfect abode.
Located just a stone's throw away from the bustling Kansas City area, residents have easy access to shopping, entertainment, and a variety of excursions. Meanwhile, Woodland Trails also offers a range of exciting amenities, including a refreshing swimming pool, a serene playground and spacious green spaces for outdoor activities. Additionally, the neighborhood is situated across from a conservation area that is protected from future developments and offers a perfect spot for nature lovers.
Parents and children alike will appreciate the high-quality schools in the district. Visit Woodland Trails and see why so many homeowners say, "I wish I had moved here sooner!"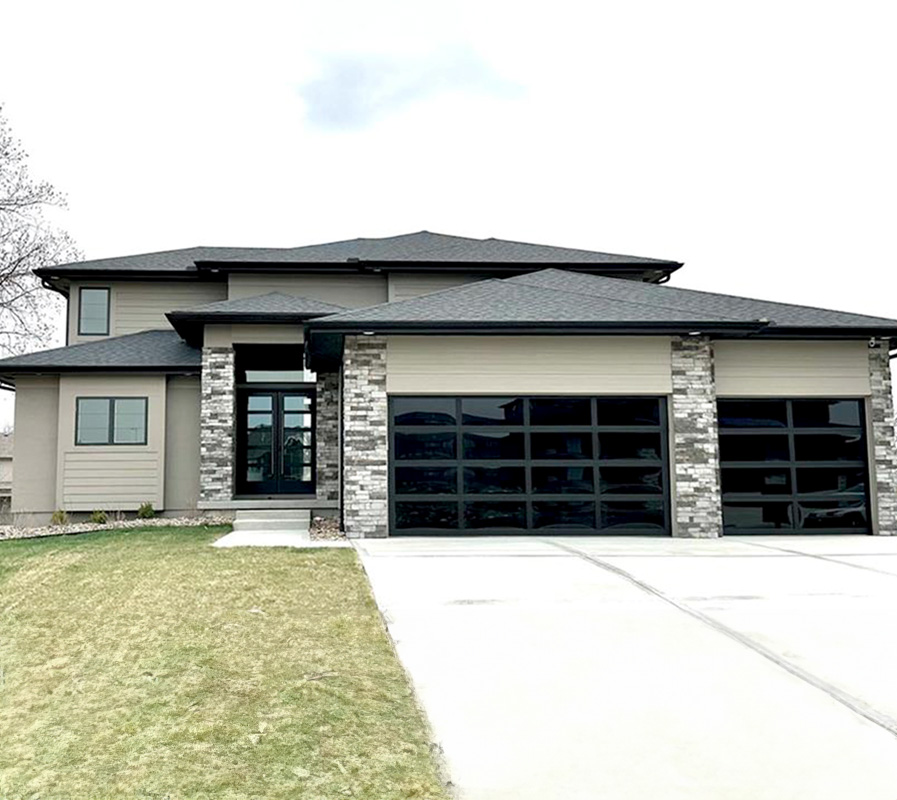 Why Are So Many People Moving to Kansas City?
Moving to Kansas City requires preparation to ensure a smooth transition. The optimal time to move is between May and October, which is also the best weather season in the area. However, it's worth noting that summer is the busiest time for moving, so competition may be higher.
Once you are settled, it's essential to get up-to-date with the utilities and services available in the city. To get acclimated to Kansas City, explore as many of the local attractions, neighborhoods, restaurants, and activities as possible to familiarize yourself with the area.
With so many things to do in the city, it can be overwhelming and isolating for new residents. Therefore, it's highly recommended to make an effort to meet people and become part of the community. There are many professional and religious organizations that can help new residents find a sense of community. Additionally, there's an abundance of activities and groups to support families.
By following these tips, moving to Kansas City can be the start of an exciting new chapter in your life.